How to install the Arbor showcase widget on your site
The Arbor Dashboard makes it easy to measure the CO2 impact of your products and showcase these metrics on your products. To begin, ensure that you have added a product to the Arbor Dashboard - checkout our blog on how to add a product if you need help. To install the Arbor showcase widget on your site please follow the steps below.
Step 1
Start by visiting app.arbor.eco, then ensure you're on the "Install" Tab. To begin the installation process, enter a domain in the box "Add the domains Arbor will work on." If you would only like Arbor to work on specific pages, enter the product pages or a collection of pages. Ex. "example.com/collections/1-2-years" this will only enable Arbor on the products in the 1-2 years category. If you want Arbor to work everywhere, enter your homepage domain.

Step 2
For whichever website platform/builder you are using, you will need to paste the <script> tag below somewhere between <head> and </head> tags in the code on each page or on your entire site. It should be in the Index file of your website to display on your entire website.

For Shopify, please refer to this link (but use the Arbor scripts instead of Hotjar scripts).

Step 3
Paste the snippet from step 2 inside of the <head> and </head> tags. Your snippet will contain the API Key instead of the letters API_KEY. Save this file / publish it and then close it.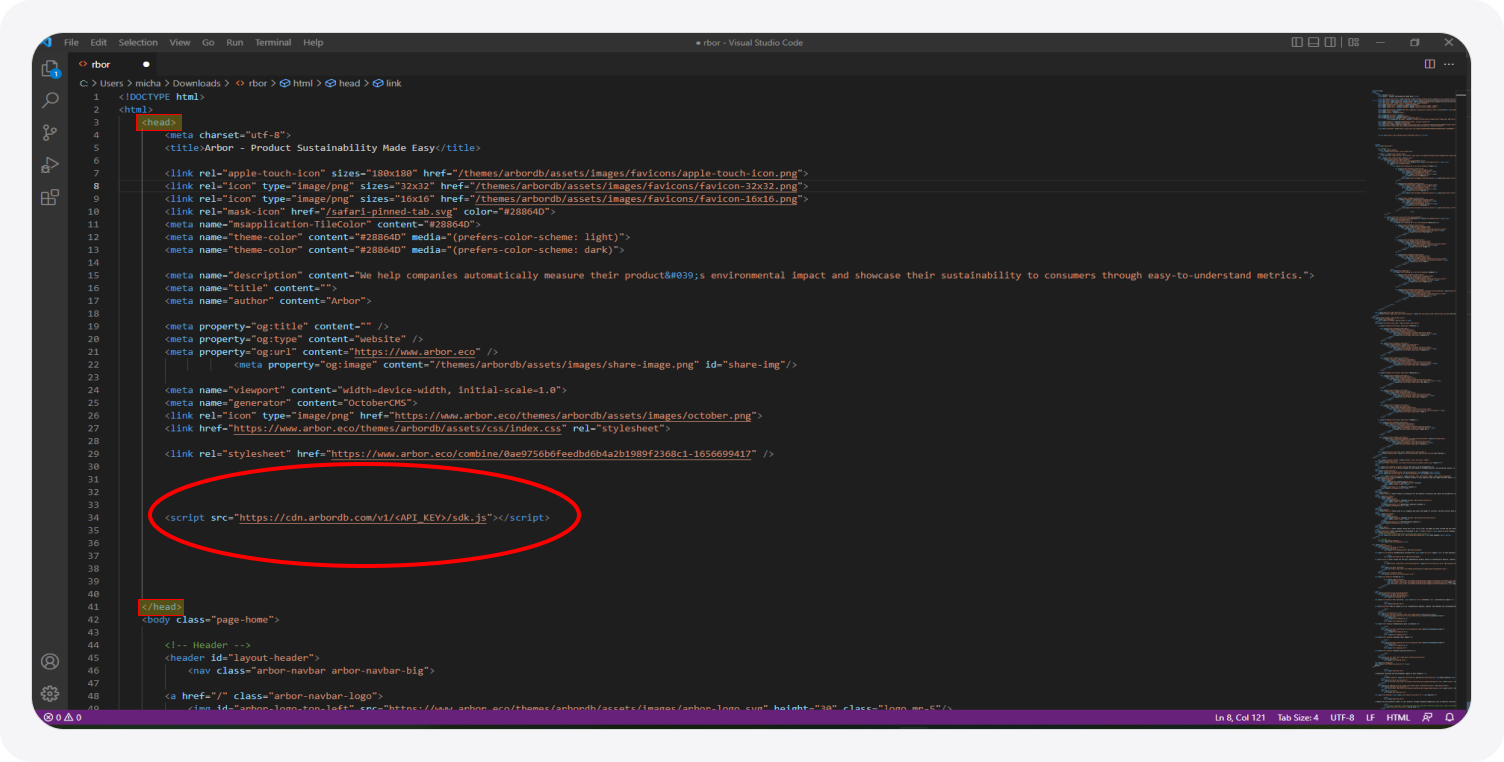 Step 4
Keep your branding consistent by customizing the look of the widget. Click the colour swatches on the right-hand side to change the widget to your brand colours.

Step 5
Visit each product page and depending on your website platform/builder, insert this block of code below wherever you would like Arbor to show up. And you're done!

Need help? Support@arbor.eco